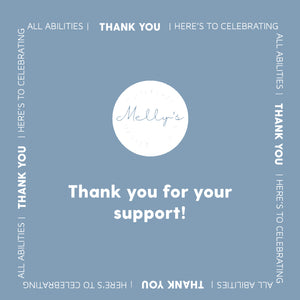 Donate
Sale price Price $5.00 Regular price Unit price / per
Melly's Workplace is a registered charity and will provide an official receipt for income tax purposes. Charitable registration: 83808 1552 RR0001
Adults with disabilities desire to be a part of life and your support provides the means to one individual experiencing community, learning, development and the sense of purpose that comes from contributing and belonging to an inclusive community.
Melly's Workplace is a registered charity that works for adults over the age of 18 with intellectual and developmental disabilities.
We provide the support and experiences that they are asking for through Melly's Market + Café, our not-for-profit café, which is open to the public.
Within this space, we deliver our exclusive Interactive Development Program.
Our program delivers 16 modules supporting the development and skill-building of each person. 

Your donations directly support: 
Expanding spaces to accept and accommodate adults with disabilities into our interactive development program. 

Mentorship programs for adults with disabilities that want to work outside of the café. We build partnerships with businesses in the community that want to hire someone with a disability and then we remain partnered to support and mentor the employee through their new job.
Developing events and social activities at Melly's Market and Café that invite the full participation of the disability community into society.
A not-for-profit café and marketplace, where persons with disabilities see themselves represented in the staff 
Please join us in our quest to change lives for the better and make dreams come true!!