Welcome to Melly's
We are a registered Canadian charity and not-for-profit café.
Our mission is to contribute to the culture of inclusion for people with intellectual and developmental disabilities through a workplace, café and market that recognizes their talents and inspires the community.

Our café is open to the community.
You can find beautifully crafted hot and cold drinks, freshly prepared goods and a marketplace stocked with unique finds.

The best part? Your donations and purchases at our not-for-profit café will support advancing opportunities and empowering the dreams of adults with intellectual and developmental disabilities.
Donate now
What we're up to
Check us out on social media to stay up to date on the cafe, market and our Interactive Development Program!
@mellysmarketandcafe
Workplace | Cafe | Market
Through our Café and Market, we offer the community a place to celebrate the participants in our development program and enjoy handcrafted drinks and food.

Our Workplace delivers Melly's Interactive Development Program.
An individualized, immersive experience built for the life-long learning and growth of adults with disabilities.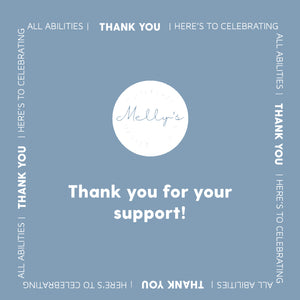 Donate
Sale price Price $5.00 Regular price Unit price / per
Melly's Marketplace
Melly's Market is a shoppable community experience filled with local goods and supplies. Most of our shoppable products will be made in-house by our team. We also showcase products by small businesses that we love like BU Candles, Simon's Soapbox and The Granola Kid!
Our goal is to elevate and promote the many skills, talents and passions of people of all abilities and provide a space for the community to shop and support them.
The best part - all profits go back into creating more opportunities for the disability community!
Learn more
Melly's Cafe
Our not-for-profit café is a space to enjoy items prepared by our team of adults with intellectual and developmental disabilities. 
We serve great coffee, snacks and marketplace items, all prepared by individuals in your community. 
Your support of our café is bigger than you can imagine. Each visit elevates and supports the well-being and growth of each member of our team. 
We look forward to serving you!
NOW OPEN!
"I want to be a part of everything, just like everybody else. A part of life."
Melly's Dream
Melanie is 33 and starts each morning with a cafe mocha. She makes her breakfast and then goes about her day, doing a little cleaning, some yoga, watching tv and making more meals as required.
Her life also includes Down Syndrome.
She dreams of a life she sees her sister and brothers living; working, going places, and friends.
Right now, for many adults living with intellectual and developmental disabilities, it is only a dream.
We want to change that!
Melly's Workplace delivers a development program that provides hands-on experience and belonging to develop skills, advance opportunities and empower life's dreams and decisions.
We respectfully acknowledge that we are situated on the treaty & traditional territory of the Mississauga of Scugog Islands First Nation of the Mississauga Nation, on whose land we live, work and play. May we honour the knowledge and understanding of Indigenous stewards of these ancestral lands and ensure that the voices of the First Peoples are represented in our mission, training, and programs.